IR Thermography for Optical Gas Imaging
Distance Learning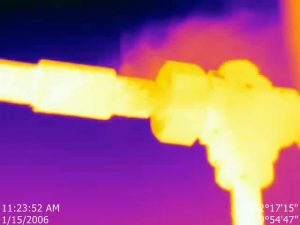 IR Thermography for Optical Gas Imaging is a 12-hour theory and application course for the use of thermal imaging to detect and document thermal patterns associated with gas leaks and venting. This is a specialty certification course focused on a single application.
This course covers infrared theory, heat transfer concepts, equipment selection and operation, detectable gases, inspection procedures, image analysis, report generation, and standards compliance.
Students are trained to identify and document thermal patterns caused by gas leaks or gas venting for several types of gases including hydrocarbons, Sulphur Hexafluoride, Carbon Dioxide, Carbon Monoxide, Ammonia, and Refrigerants. Self-directed learning activities are provided to help students gain practical experience; however, one need not have a camera to successfully complete the course.
Course tuition includes 24/7 access to all online course presentations, downloadable Student Reference Manual, online quizzes, final exam fee and written proof of course completion. Student must complete training within 60 days of registration.